Fortress One Security offers a variety of Building Security Upgrades for commercial and residential stratas. Vancouver area Property Managers can Contact Us Today for …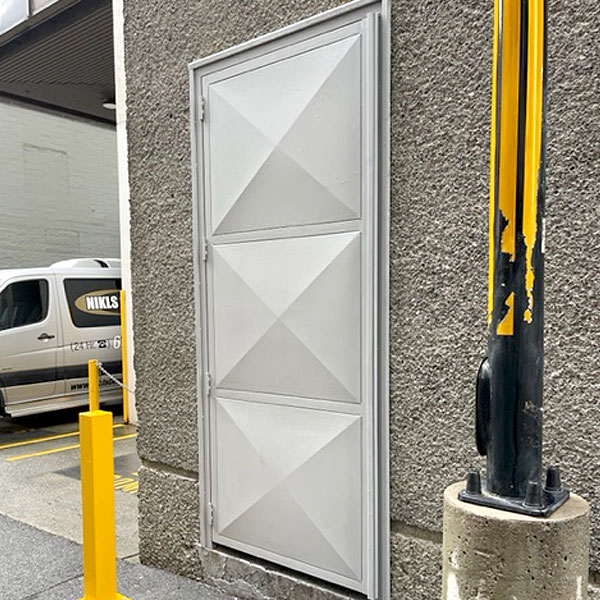 Alcove Enclosures
Building alcoves are usually located at exit-only points of your building. They are prime targets for mischief or homeless encampments due to their locations in alleys or on side streets, and the small protection they provide from the elements.
Our custom fabricated alcove enclosures have various options. including:
Exit-only or key to enter
Perforated steel for visibility or solid steel
Full length anti-pry astragals
Infill sections if greater than standard door size
Area Enclosures
When simple fencing is not enough to provide both security and access, we build area enclosures. These are usually installed to secure the rear of buildings. Advantages over fencing include:
Door closer to automatically close & lock the gate
Push bar exit to facilitate emergency exit
Much stronger than chain link fencing
There are a wide variety of options, and each enclosure is built to fit your specific area and needs.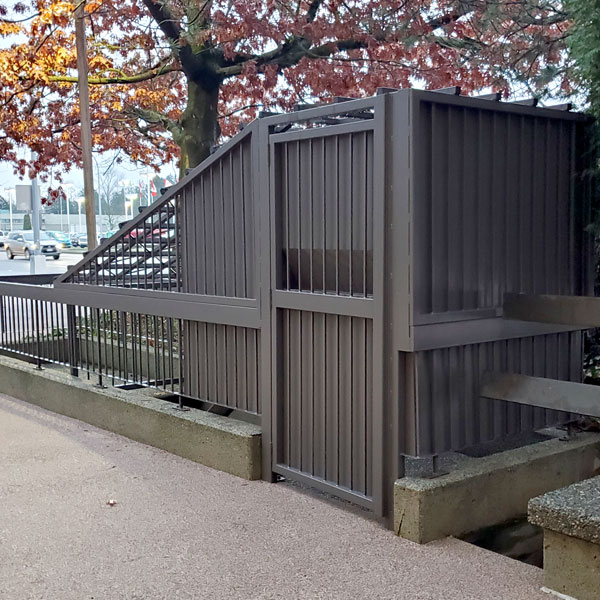 Stairwell Enclosures
Stairwell access points to basements or underground garages pose a unique challenge to building security. They are prone to break-ins, vandalism, and homeless encampments due to their sheltering and low visibility aspects.
Often, they are emergency exits, so the challenge is to maximize authorized access, and stop unauthorized access. Our designs ensure natural lighting to get in, while still protecting the door and door hardware from tampering.
Stairwell security enclosures feature all the same options as our area enclosures.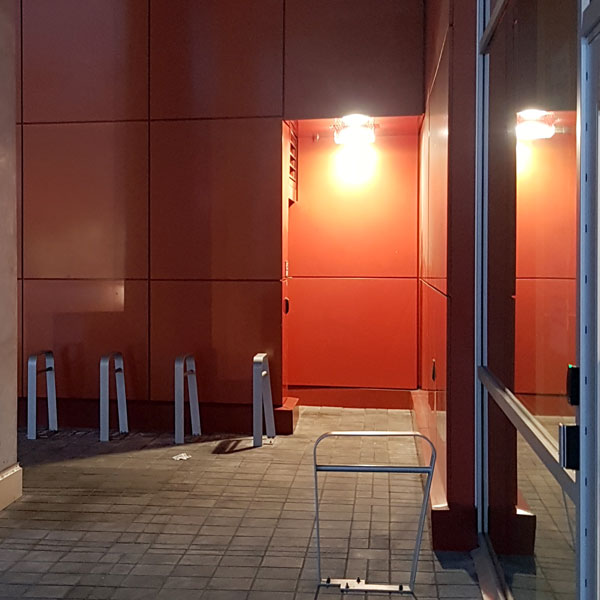 Security Lighting
Some areas cannot be easily enclosed with physical deterrents, either due to the area or circumstances in how the area is used. In these instances, we recommend adding security lighting to deter loitering, vandalism and break-ins. Lighting options include:
Motions sensor control
Steel cages to protect light fixtures
Bright & long lasting LED fixtures
Adding additional lighting or upgrading to brighter LED fixtures is one of the best ways to create a safe and secure environment at your properties.
Hose Bibb Locks
Exterior hose bibbs (water taps) are essential for maintenance people to keep your property clean. They are also prone to being tampered with.
And when not used properly, they can easily be damaged, creating a runaway water leak that now needs a service technician and parts to repair.
Our hose bibb locks surround the entire fixture with a steel box, anchored to the wall. Keyed or combination padlocks can be installed to make it secure and accessible to maintenance personnel.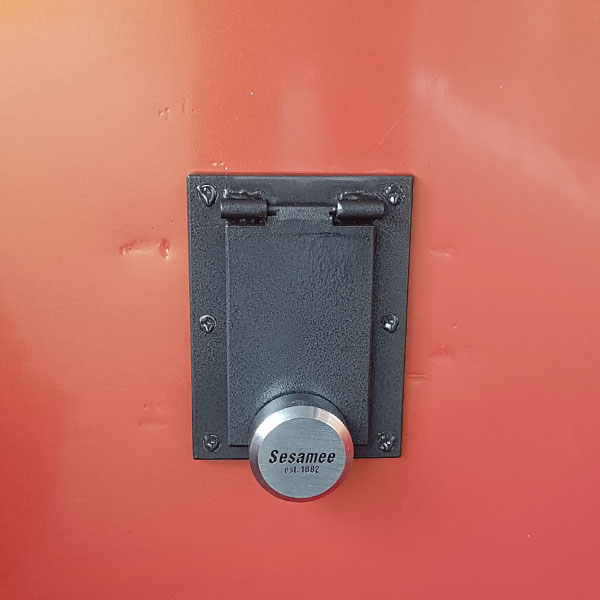 Electric Outlet Locks
As with hose bibbs, exterior electrical outlets are often prone to unauthorized use or vandalism. We fabricate and install steel guards for electrical outlets as well, whether they are flush-mounted or junction-box styled.
Keeping electrical outlets secure is important for fire prevention, as well as stopping unauthorized use.
Keeping all these kinds of services secure helps to cut down on vagrancy, theft, and vandalism at your properties.
Roof Ladder Cages
The safety cage around your roof ladder is not just for safety, it's also for security. Thieves, vandals and youth are found regularly climbing up the outside of the safety cage to cause mischief.
You can increase your building security with a steel skinned safety cage to prevent climbing and unauthorized access to your building roof. We also fabricate and install padlock shrouds to prevent breaking into roof ladder access hatches.
Traffic Barrier Gates
Traffic barrier swing gates keep unwanted traffic out of your property, especially useful during off-hours. They are easier to install and maintain, and are more reliable than sliding gates. We custom fabricate barrier gates to fit the opening they are protecting, and install with heavy duty steel posts set in concrete.
Traffic barrier gates control or restrict access to your property to help:
Prevent illegal dumping
Stop scrap metal scavengers
Minimize late night loitering
Add another layer of security
Bollards
Concrete filled steel bollards set in concrete will protect your buildings from drive-through break-ins and from drive-through accidents that can badly damage a building.
They can also be used to protect equipment such as gas meters, and to protect building walls and corners from being hit. We make and install:
In-ground bollards
Surface-mounted bollards
Removable locking bollards
Garbage Enclosures
We provide a variety of security solutions for garbage rooms and garbage enclosures. Take a look at our door security upgrades for garbage room doors.
Garbage enclosures can be built with:
Chain link fencing
Steel frame and wood siding
Steel frame and galvanized steel siding
We can often upgrade existing enclosures. And of course, we also fabricate and install new ones to fit your garbage and recylcing needs.
Mailboxes
Mailbox break-ins continue to rise at commercial properties, townhouse complexes, and inside apartment buildings. The reason is identity theft and multiple tenant boxes are most at risk.
We fabricate mailbox enclosures that offer the best protection using a number of time-tested features:
All steel welded construction
Anti-pry door astragals
Lock guards and non-removable pin hinges
Separate access for residents & Canada Post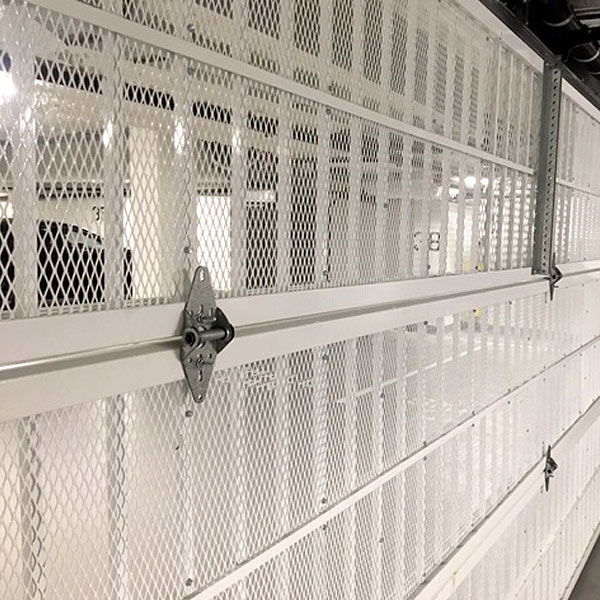 Overhead Gate Security
The bars on overhead gates are frequently cut by thieves to gain access to the parking garage or building. We can upgrade your gate security with expanded metal which acts as a significant deterrent. Expended mesh also serves to help keep birds out of your parkade.
The process is:
Cut to size and install expanded mesh
Adjust gate's spring tension for added weight
If needed, springs can be replaced with stronger ones
All mesh is powder coated to match the existing gate colour.
Basement Security Grates
Sunken basement windows can be an easy target. Traditionally, the grates used to protect them are not secured or very weakly secured. We will find a solution.
In this instance, we utilized the concrete framing, the grate itself, and the wall of the building to secure the sunken basement windows. Every unique situation requires a unique solution. Our experienced personnel will find a solution to help secure your building and make it a hard target.
Serving Vancouver Lower Mainland Property Managers since 1994
Fortress One Security is part of the Nikls Group of Companies
Contact Us Today …