The Best Security Solutions for Your Mailboxes
Community mailboxes for multi-tenant commercial and residential properties are a prime target for break-ins by thieves looking for cheques, credit cards, and any bit of information they can get to foster identity theft and other schemes.
Following a mailbox break-in, thieves will often come back again and again once the mailbox has been repaired and mail service has resumed. Upgrading your mailbox security is the only way to stop these break-ins.
In addition to repairing vandalized mailbox locks and doors, we custom fabricate high security mailbox enclosures.
Download a PDF for more info on our high security mailbox enclosures
Mailbox Enclosures Give You Rock Solid Security You Can Rely On
Solid Steel Construction
All welded steel construction with perforated steel faces reinforced with steel bar construction. Powder coated finish is available in black, gray/silver, or white. Custom fabrication ensures we can build an enclosure to fit your mailboxes, however and wherever they are installed.
High Security at Every Point
Every mailbox enclosure features, full-length anti-pry astragals on all doors, solid steel lock guards, and NRP hinges. Mailbox enclosures are the most proven deterrent against vandalism and mail/identity theft.
Dual Access
Our "door within a door" system ensures you do not have to manage access to your mailbox. The outer door is accessed by Canada Post using their own crown lock. The inner door is for your residents to access with their own key. This keeps your mailbox always accessible and always secure, day and night.
We Take Care of the Details
We maintain an excellent relationship with Canada Post and will arrange new crown locks for your enclosures, reinstallation of mailbox crown locks, and resumption of mail service once repairs are made and your mailbox is secure.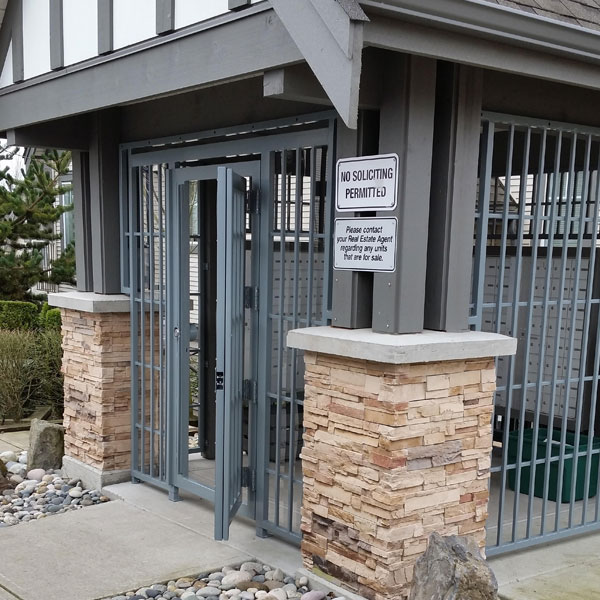 Other Mailbox Security Solutions
Although our high security enclosures are the best way to deter mailbox vandalism and mail theft, there are some other solutions available for specific situations.
For Indoor Mailboxes: Depending on the type of mailboxes you have, we can sometimes retrofit the main doors with an internal security upgrade kit. These kits are custom fabricated and strengthen the latching mechanism that holds the main door accessed by Canada Post secure.
For Pedestal Mounted Mailboxes: We can sometimes relocate your mailboxes or replace them with a wall mounted option. This can increase security greatly for older mailboxes when the main door is at the back of the box, or for boxes in a location that is not well lit. You will need Canada Post's permission to move your mailboxes to a new location on your property.
For Mailboxes Installed in an Alcove: In addition to mailbox enclosures, we also make custom fabricated gates, doors and alcove entrances that can make the entire area where your mailboxes are located more secure.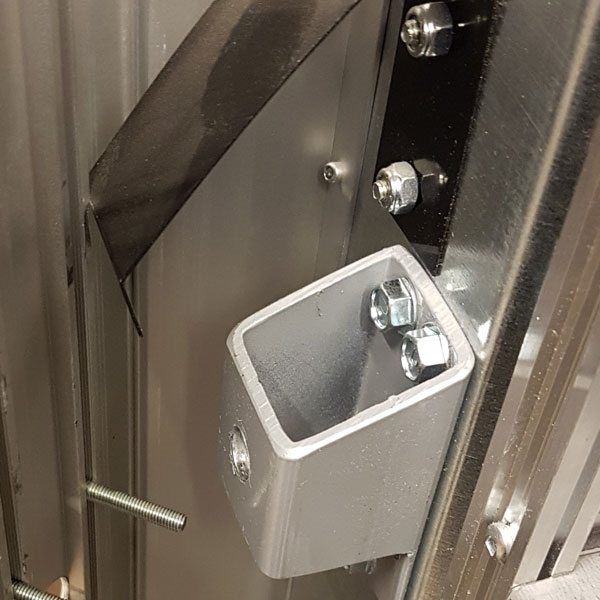 Mailbox Lock Hardening Kits
Fortress One Security fabricates various upgrades for existing mailboxes, including heavy duty lock latches. These upgrade parts significantly increase the strength of your mailboxes, making break-ins much more difficult.
With Fortress One Security, you get a team of diversely skilled trades people including, locksmiths, metal fabricators, carpenters, masons and more. This is how we can bring you unique security solutions not found anywhere else … security solutions that attack a problem from a variety of perspectives.
And most importantly, security solutions that work.
Mailbox Heavy Duty Locks
In addition to hardening kits for the stock crown lock, we also fabricate and install additional heavy duty locks. This steel bracket with puck lock, is used in addition to the crown lock to secure your mailboxes after hours.
This system works great where there is a building manager or concierge present during the day who can remove the lock in the morning and lock it up at the end of the day. It adds an extra layer of security for your mailboxes during the evening hours.
Mailbox Break-in Repairs
1. Mailbox Break-ins at an All-Time High
Mailbox break-ins are at an all-time high due to organized identity theft rings. And often, the mailboxes cannot be repaired by most locksmiths.
Due to supply chain issues over the last couple years, getting a new replacement mailbox can take several months. Residents and businesses are greatly inconvenienced, having to pick up their mail at the post office.
2. Fortress One Security Has a Unique Skillset
We have a complete metal fabrication shop. Our fabricators and locksmiths work together to repair and rebuild badly damaged mailboxes including:
Main door and main door frame
Individual tenant doors
Locks and lock latches
Surrounding box shroud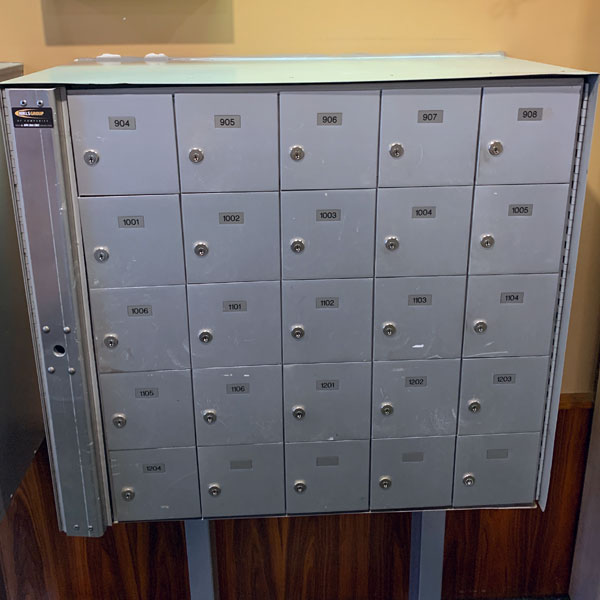 3. Back in Service
Once all repairs are made, we will reinstall your mailbox and contact Canada Post to reinstall their crown locks and resume mail service.
We do our best to repair the unrepairable. To get you back up and running as quickly as possible. And to offer security upgrade solutions that prevent future mailbox break-ins.
Mailbox Repairs and Security Gallery