Fortress One Security offers complete 24/7 locksmithing services for commercial and residential stratas. Vancouver area Property Managers can Contact Us Today for …
24/7 Mobile Locksmithing Service
Fortress One Security specializes in taking care of all your commercial and strata property locksmithing needs.  We provide you with 24/7 mobile service to repair and replace locks, rekey locks, and to troubleshoot door and door hardware issues.
Call us today for all your locksmithing needs, including …
Rekeying and mastering
Door and lock repairs
Bike rooms and lockers
Electric strike service and repair
Securing fire exits to meet code
Hardening common electrical and mechanical rooms
Rekeying and Master Keying
Complete mobile rekeying and master keying service. Our mobile technicians carry a wide assortment of key blanks, lock cylinders, and cylinder pinning supplies. We're ready to help you with:
Opening & rekeying locks when your keys are lost
Keys for existing locks when the key is not available
Creating master key systems for your building
Rekeying for lease or tenant changes
For odd locks that can not be rekeyed, we will find a suitable replacement lock for you. This includes some cabinet locks and foreign non-descript locks.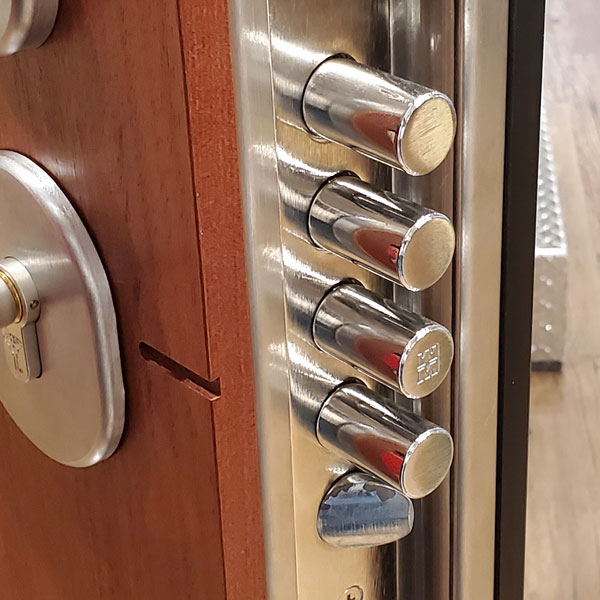 Lock Repairs and Replacements
Whether due to a break-in or general wear and tear, locks will occasionally need repair or replacement. Premium quality locks can often be repaired, while standard or badly damaged locks are generally replaced.
Our technicians excel is disassembling, repairing, re-assembling and reinstalling locks to ensure they are operating properly to keep you property safe and secure.
We keep a diverse stock of common locksets on board our service vans to quickly make your building secure in the event you have locks that need to be replaced immediately.
Door Knobs and Lever Handle Sets
Call us for service and repairs, and to get the best advice on what kind of knob set or lever handle set you need.
Various functionality for knob sets includes:
Storeroom function: Always locked, always requiring a key to access
Classroom function: Lock functionality is engaged or disengaged using a key
Entry function: Pushbutton to engage or disengage the locking function, and key accessible
Privacy function: Pushbutton lock with hole  to release from outside (residential washrooms)
Passage function: Latch with no lock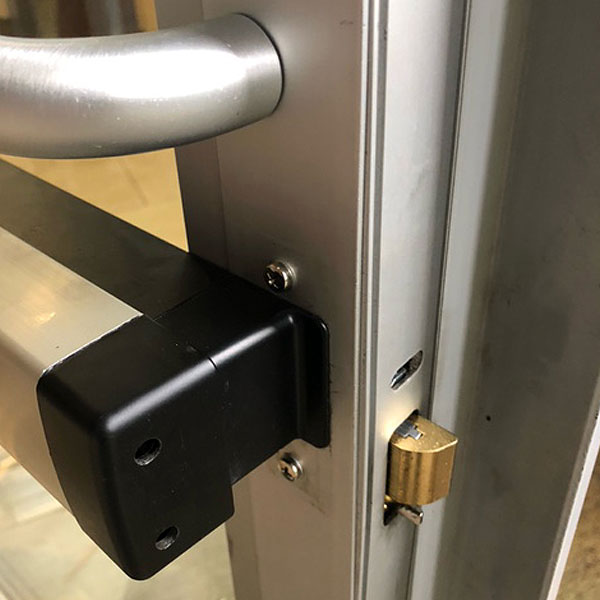 Emergency Exit Push Bars
Push bars are required on most exit doors, specifically to allow easy egress during a fire or other emergency. They can be non-accessible or key-accessible from the outside. Call us for:
Repair or replacing non-functioning panic sets
Replacing knobs or lever handles with new panic set push bars
Installing anti-tamper guards for your panic bars
We service both mechanical and electro-mechanical push bars on both steel and aluminum/glass storefront doors.
Push-to-Exit Paddle Handles
Paddle handles are similar to emergency exit push bars, just in a smaller form factor. They are typically used in glass + aluminum storefront doors instead of a push bar.
They are a quick and effective handle for emergency exit, or just exiting through a door you want to generally keep locked. They also have a dogging mechanism, allowing you to "dog" the lock open during the day, and then release so the door self-locks at night.
Depending on your code requirements, a push bar may be required if installing on a new door, and there are many push bars now that are compatible with glass and aluminum storefront doors.
Pushbutton Access Locks
Pushbutton access door locks are a great way to control access to areas such as common area washrooms, without the need for keeping track of keys (that often get taken off site by accident or left locked in the washroom).
Pushbutton code door locks are also great for offices, mechanical rooms, electrical rooms, or any door where you may want to provide access to authorized persons without needing to attend site.
Pushbutton door locks are available in knob or lever handles, and with or without key access.
Flush Bolt and Octopod Door Locks
Double doors usually have a passage door and a static door (which in some cases is usually locked). Due to the way double doors work, it's not practical to lock one door to the other the way a single door is locked to the door frame.
To secure your double doors, flush locks are used to lock the static door to the frame above the door and threshold below the door. The passage door is then locked to this static door.
Call us to repair or replace non-functioning flush locks, or to add octopods to your doors – octopods are mounted on the door and can only be locked or unlocked using a key, providing additional security from tampering.
Electric Door Strikes
Electric door strikes allow you to:
Create access systems based around swipe cards or fobs which can be controlled (for example, deleted from the system in the event they are lost or stolen)
Create automatic lock and unlock times to control access during business hours
We repair or replace electric strikes, and can also install new strikes to door frames for your access control company to wire in and add to your system. In addition to electric strikes, there are similar types of hardware that are mounted on the door itself – for example electrified emergency exit push bars.
Washroom Occupancy Indicator Locks
For single occupancy washrooms in large offices or building common areas, washroom indicator locks are very helpful. They come in many configurations but the most common is a dead latch activated by a thumb turn. When the latch is locked, the indicator will show "In Use", and when unlocked the indicator reads "Vacant".
These locks can usually be retrofitted to replace your non-indicating locks. They also feature maintenance or security access keys in case of emergency or the lock is somehow engaged without an occupant.
Washroom Stall Locks
For multiple-occupancy restrooms with individual stalls, there are 3 key hardware components that make up a stall that we can service for you:
Washroom stall locks and hinges
Partition panel mounting hardware
Partition panels and doors
Washroom stalls locks often come in a variety of proprietary designs, and the door prep holes are fabricated to fit only these specific locks. We repair and replace these non-standard as well as standardized washroom door locks.
Sliding Door Locks
Sliding balcony doors are unique in that problems with the locks can arise from 2 main issues – the lock itself, or the door's rollers which can prevent the latch from lining up properly when they are faulty.
We can service your sliding doors no matter what the issue is, including:
Lock repairs for sliding doors
Roller replacement for sliding doors
Adjustments to the frame, track, and door
Window Locks and Hardware
Windows have a variety of hardware that can be serviced including locks, hinges, gear hinges, and weather seals. Your windows are just as important for the building's security as your doors, and in some cases even more so.
Windows also come with a wide assortment of different locking hardware that is sometimes difficult to find. We specialize in:
Repairing or replacing window locks
Sourcing window lock parts and hardware
Adding locks to existing windows
Pneumatic window opener replacement
Door Maglocks
Maglocks (magnetic door locks) are an important component to the security of many commercial buildings that allow programmable access times to the building. For programming lock and unlock times, it's best to contact your building's access system service provider.
For repair or replacement of the physical hardware, Fortress One can help you troubleshoot, assess, and make adjustments or repairs so your maglocks are functioning properly.
Often times the issues we encounter with mag locks have more to do with door operation than the maglock itself – our locksmiths and door techs will be able to properly determine the cause of the issue and repair it.
Padlocks
Padlocks are an important component of your property's security. They are used to lock roof hatches, gates, garbage enclosures, gas meter cages, storage cages, and all kinds of other secure enclosures. We can provide you with a great selection of premium padlocks not readily available at your hardware store, including:
Combination padlocks to bypass the need for key distribution or attending site to grant access
Multiple padlocks keyed alike for use across multiple areas of your property or multiple properties
Heavy duty and high security padlocks with hardened bodies and shackles
Custom padlock hasps with heavy duty protective shrouding to prevent brute force attacks
High Security Key Systems
Fortress One Security is an authorized dealer for many high security and restricted key systems. These locks are very difficult to penetrate and are used by secure facilities, institutions, and high net worth individuals
Abloy Protec High Security Key Systems
Fortress One Security is an authorized dealer for Abloy Protec high security locks with restricted keyway.
Abloy has long been recognized for it's "bank vault quality" locks. These uniquely designed locks and keyways offer unrivaled security in their ability to withstand picking, brute force attacks, and to continue functioning in extreme environments.
Abloy Protec locks are a great option for secure facilities, and for creating a master key system across multiple facilities or properties to secure key service areas such as electrical and mechanical rooms.
Mul-T-Lock High Security Key Systems
Fortress One Security is an authorized dealer for Mul-T-Lock Interactive high security key systems.
Mul-T-Lock's interactive key system allows you to recode locks to different keys during a transition.
For example, your Mul-T-Lock system can provide access to multiple doors with a common key during a construction phase. Then, with the turn of a control key, you can switch all the locks to unique combinations, making the common key inoperable.
Schlage Primus High Security Key Systems
Fortress One Security is an authorized dealer for Schlage Primus XP high security locks.
Schlage Primus is one of the most versatile key systems available. This restricted key system can not be copied at any key cutting shop – it has a unique side-cut for use only with Primus key cylinders. But the key can also open regular Schlage SC4 cylinders (like a common house key).
This gives you unrivaled options for creating a master key system, using a combination of high security and regular locks – high security keys and regular keys.
Serving Vancouver Lower Mainland Property Managers since 1994
Fortress One Security is part of the Nikls Group of Companies
Contact Us Today …