Fortress One Security stocks all spare parts for the operators we install.  Vancouver area Property Managers can Contact Us Today for 24/7 service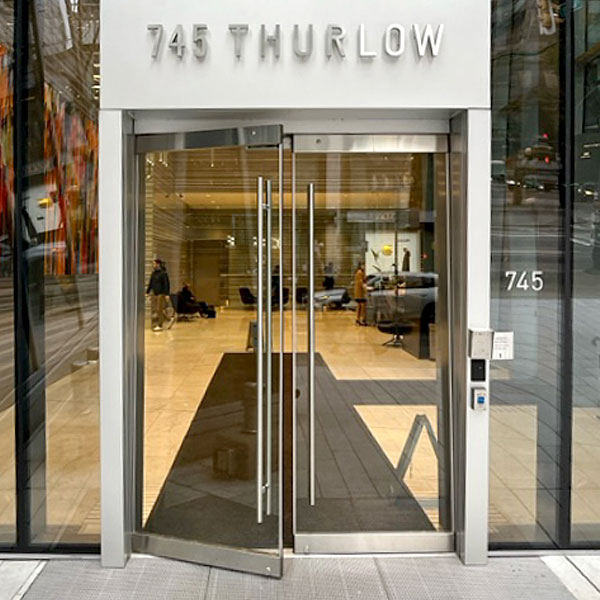 Ensuring Security and Accessibility
Your automatic and handicap doors serve 2 important functions that oppose each other … easy accessibility and easy security. It's important they work as designed and give you great service without constant maintenance headaches.
Fortress One Security provides complete multi-trade installation, service, and repair for all your automatic doors.
Download a PDF Info Sheet for more info on automatic door service and repairs.
New Installations – Complete Multi-Trade Solution
You will not need to coordinate several trades.
Fortress One will bring you a complete solution …
Accessibility Operator / Door Technician
Journeyman electrician to bring properly grounded power to your operator
Access System Interface Tech to connect your building's access and security systems
Carpenter for drywall and paint repairs when needed
Metal fabricator to install railing or bollard in front of exterior door if needed
No surprises – you will know everything you need for a complete install. And we will bring you the best solution.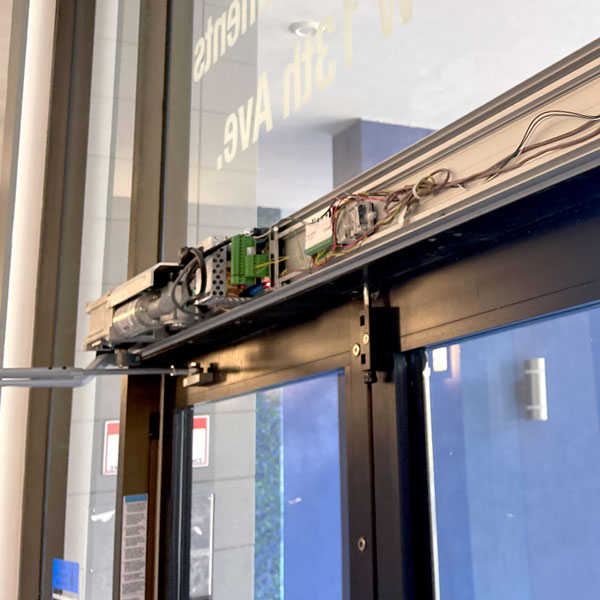 10X Increase in Automatic Door Use
Due to sanitary and health concerns, it is becoming normal for people to push the automatic door button instead of touching the door handle. Door operators are wearing out more quickly than ever. And older operators may not have parts available readily, or at all. Our goal is to keep your doors working …
Get quarterly or semi-annual preventive maintenance to keep your doors working
We stock replacement parts for the operators we install for quick repair
If an operator needs to be replaced quickly, we custom size them in our shop to fit your entryway
We always stock new operators (left, right, push, and pull options)
Older operators may be discontinued and not have replacement parts available. Our techs can replace your defective operator even on weekends or holidays
Contactless Wave-to-Open
Perfect for sanitary no-touch operation of your automatic doors. Wave-to-open switches require no contact to open your doors.
Sensitivity can be adjusted from 4″ up to 12″
Available with stainless steel or polycarbonate face plates, and existing push-plate switches can be upgraded to wave-to-open.
Most wave-to-open switches have an illuminated bezel that changes colour to signal the door is being activated to open.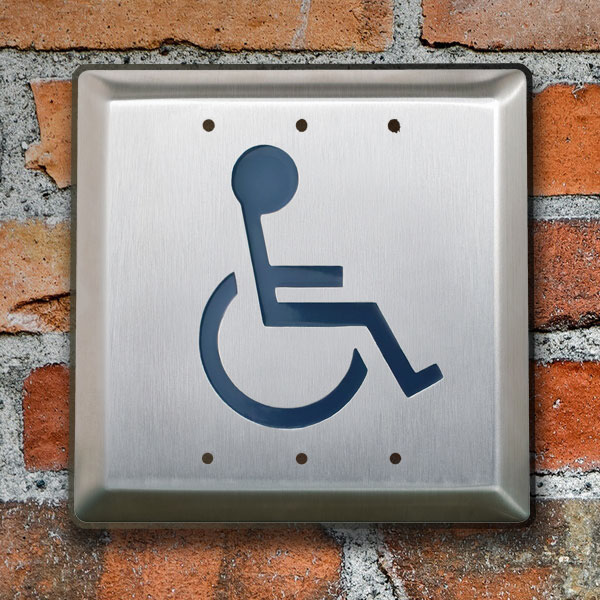 No Wires & No Batteries
Technology keeps advancing. Wireless and battery-free contact push-plate switches make installing and upgrading your door operators easier, and cut down on maintenance required.
They also stop the need to change the appearance of your space (no surface-mounted conduit or wire mold needed to run signal wiring).
These switches use the action of pushing the button to generate the electricity to send a wireless signal to the operator. This makes them ideal for applications where running wires to the switch will be costly and unsightly. They also have a great advantage over the previous battery operated wireless switches which can require frequent battery changes in high traffic areas.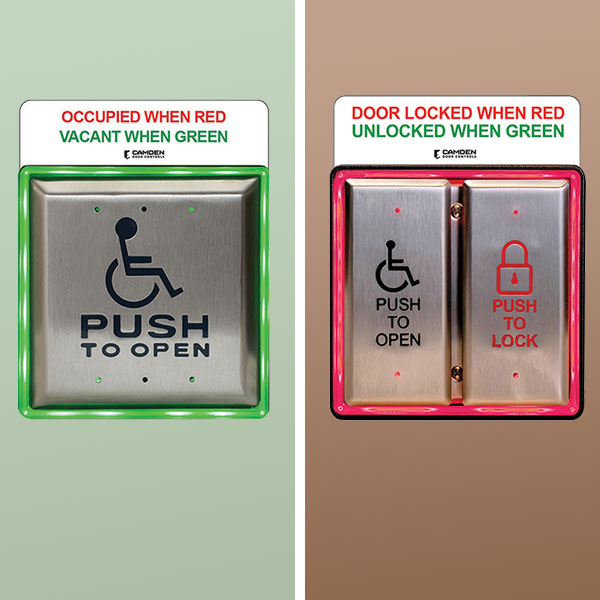 Barrier-Free Washroom Door Interlocks
Washrooms have gone touchless … faucets, toilet flush valves, soap & hand towel dispensers.
Now, you can use touchless wave-to-open sensors for your automatic washroom doors.
You can also install push button locks that work seamlessly with your door operators for handicap washrooms. These interlocks have illuminated colour indicators to show if the washroom is empty or occupied.
Another popular option is to enter the washroom by only scanning the access system fob, and exiting by waving your hand in front of the sensor.
That way, the washroom is more safe and secure.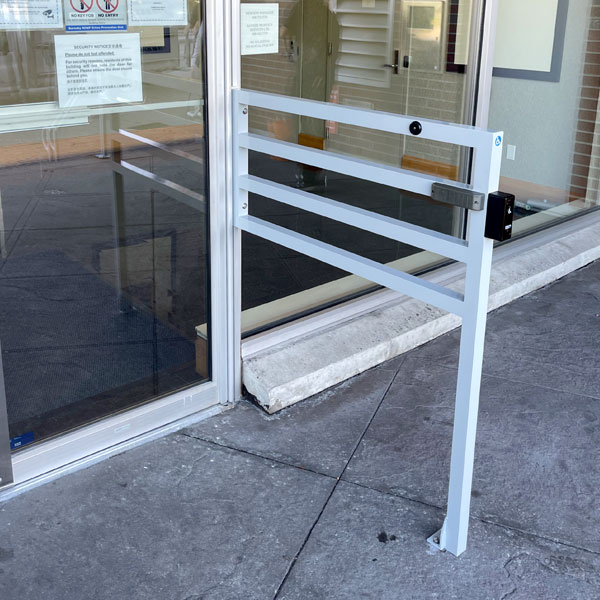 Safety Railings for Automatic Doors
Railings are required in many circumstances to:
Safeguard patrons on the sidewalk from automatic doors opening
Create a mounting point for access buttons for the door to open
Serves as a maximum opening stop limit with a small rubber bumper
May save your exterior door from being damaged by strong wind gusts
We install custom railings for your automatic doors that adhere to accessibility regulations and provide a complete platform for wired or wireless switches and fob readers.
Wires are run safely through hollow tubes. No danger of tampering. Available in various designs and colours. Powder coat finish. Fastened to the door frame and anchored to the concrete floor
Complete Service and Repair for Automatic Doors
Door Controls
Our ANSI certified techs ensure your automatic doors are operating properly and as code requires
Hardware Upgrades
Low end hardware frequently breaks causing ongoing service issues. We provide hardware upgrades to commercial grade hinges and operators, which can handle today's increased usage which has increased 10 fold since 2020.
Emergency Service
Automatic doors can be a significant security issue when they stop working. We get you up and running right away or make your doors secure until final repairs can be completed.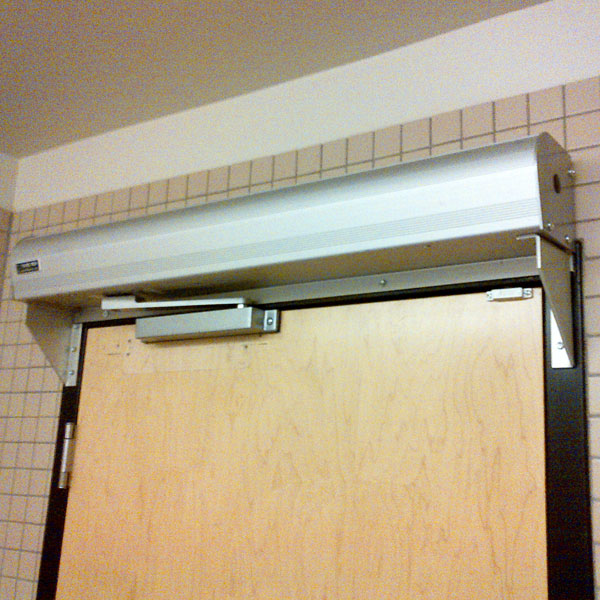 Get the Best Value from Your Automatic Doors
Tenants and patrons to your property simply expect one thing from your automatic doors. They expect them to work.
One of the challenges we see a lot of properties face is low-grade hardware installations, or door installations that are under a lot of stress and abuse due to heavy-handed use. This is especially a problem where the doors act as a controlled access point where security is a concern.
We use top quality automatic door closers and full length high security hinges that last, provide satisfaction, and a lifetime of safety, security, and accessibility.
Call us 24/7 at 604-663-2255 to service your automated doors and get reliable security and reliable accessibility at all your properties.
Automatic Door Service Gallery